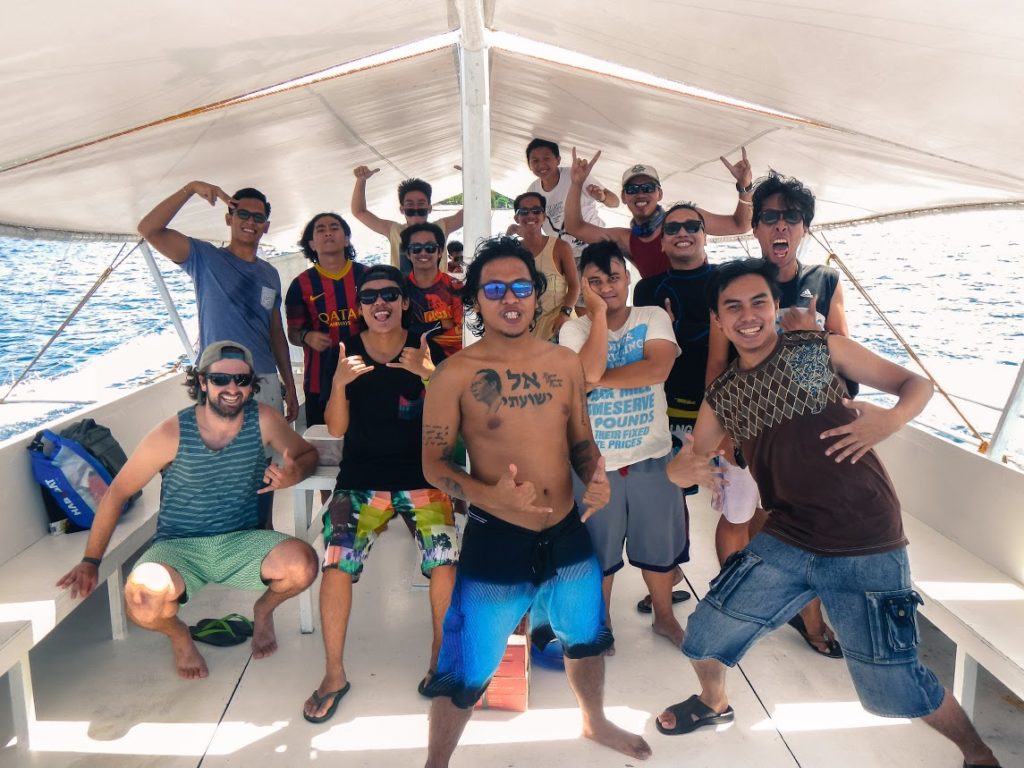 PhotoUp editors are not just friendly eagle-eyed artists who enhance real estate photos to perfection. They are also cool fellows who love a dose of fun, laughter, and good times. So after a hard week's work, we decided to reward ourselves with an island hopping trip around the azure Hilutungan Channel around the resort island of Mactan.
Our CMO, Devon Higgins, joined us in this weekend adventure. It was his first island hopping trip in our tropical country. Boy, did he have fun!
We left the beautiful and metropolitan island of Mactan on a sunny mid-morning. The tropical weather was perfect for a nice day of visiting sandy paradises.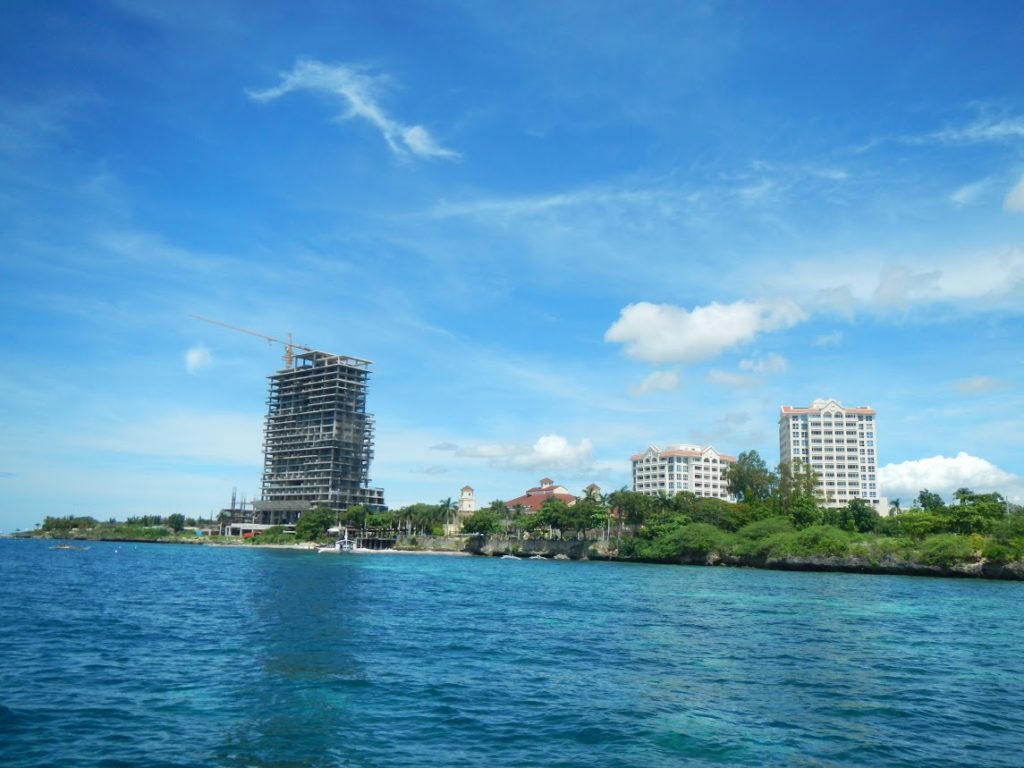 Some of our guys just couldn't contain their excitement for this weekend adventure. In fact, they wanted to sit down at the front of our pump boat, which is cruising at full speed!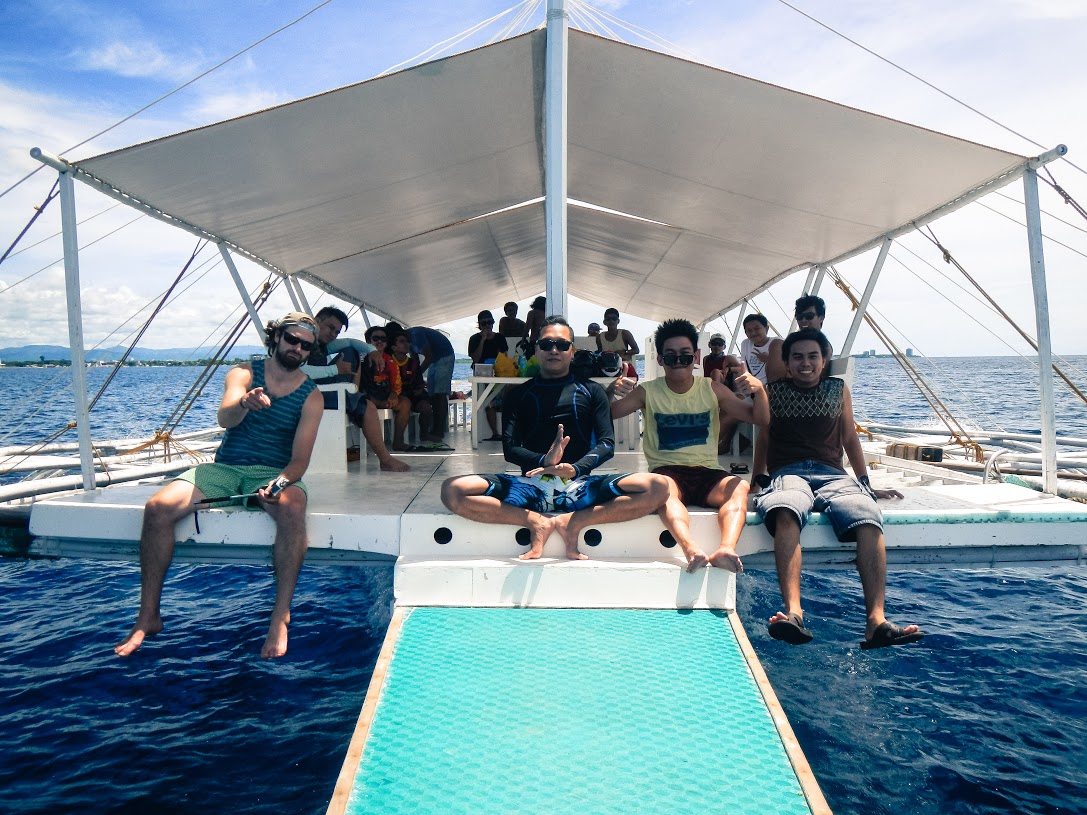 After a one-hour cruise, we reached the white-sand paradise of Pandanon Island. The farthest island in a standard Mactan island hopping trip, Pandanon Island is a favorite stopover due to its talcum-fine sand and clear waters. A far-flung community subsists on the rich marine resources that surround the island.
While the other boys enjoyed a dip, Ossie, our office manager, prepared our main viand—juicy and tasty grilled pork. In the Philippines, grilled food items are preferred during picnics due to the ease of preparation.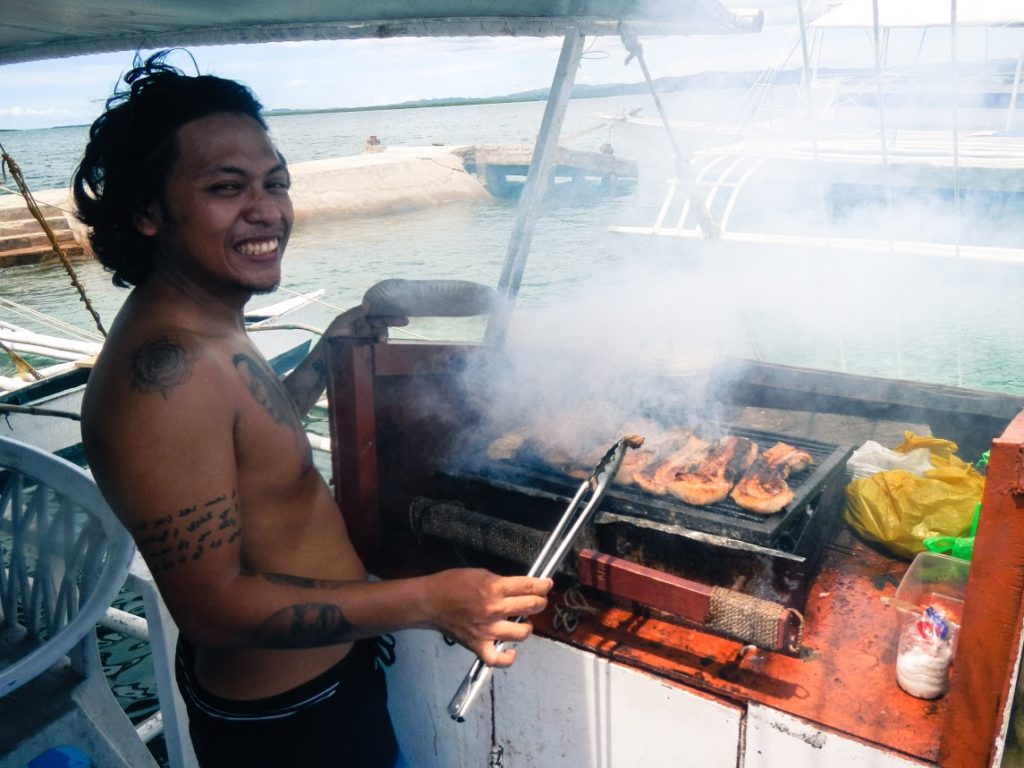 Graveyard Shift Manager, Tolits, helped prepare our lunch by slicing the grilled meat into bite-sized chunks.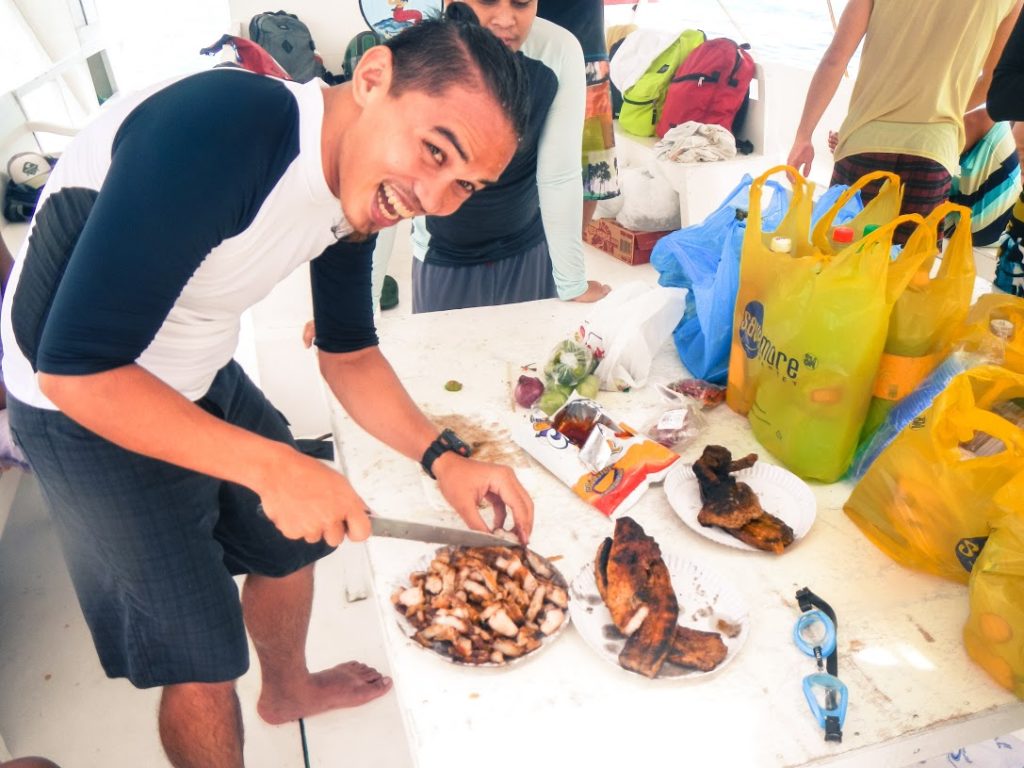 Adding sliced tomatoes and onions improves the meat's taste.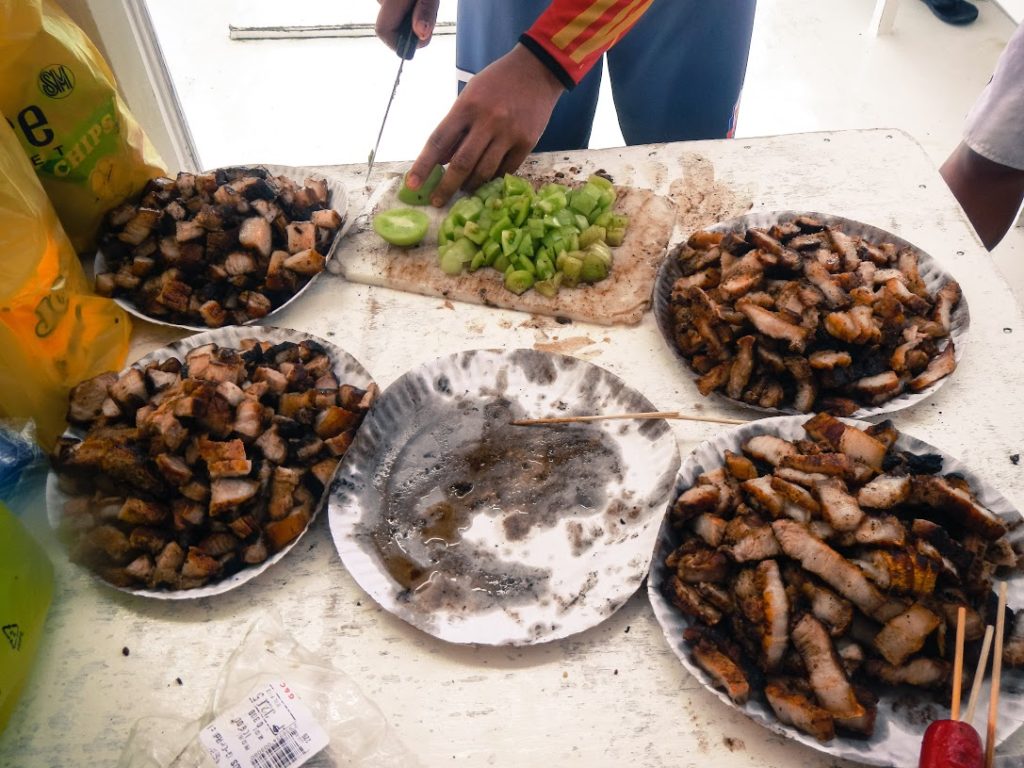 We have dared Devon to take a bite of pusit. Pusit is dried, salted squid that can be prepared through slight grilling or frying. For Filipinos, the smell and taste of pusit is heaven. But foreigners who haven't experienced eating such a delicacy describe pusit as turpentine-flavored jerky.
However, as an adventurer who craves for something new, Devon ate some pusit with audible gusto. He later remarked it was a tasty, chewy snack.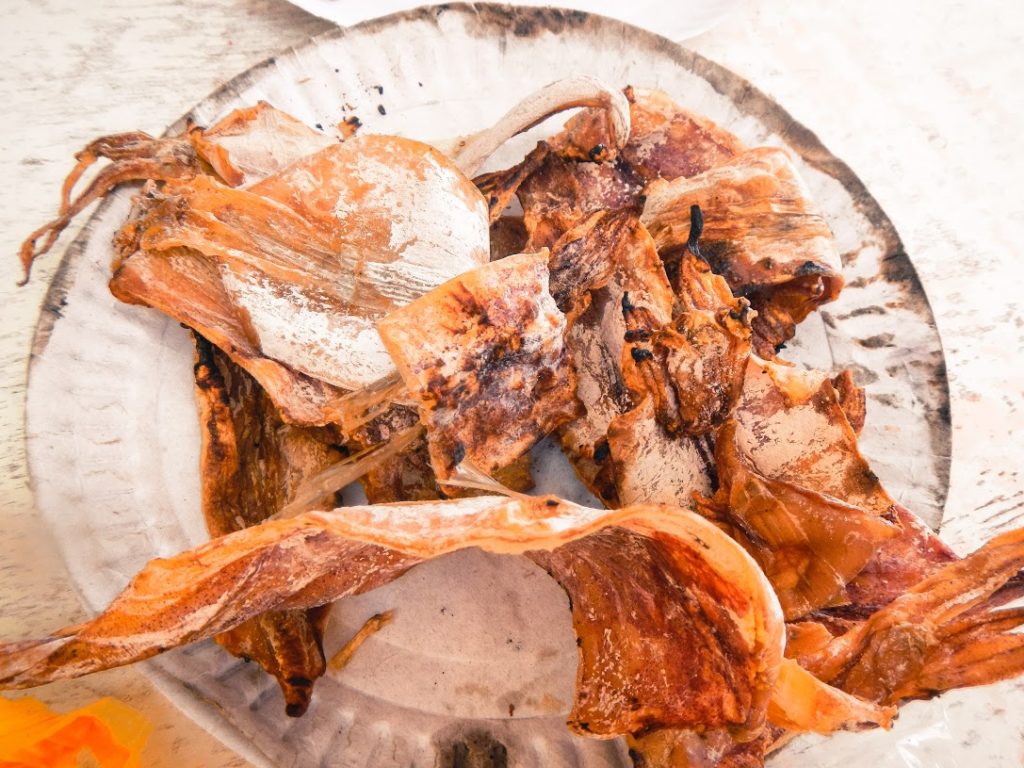 A couple of local fishermen came alongside to sell their harvest. It was another opportunity for Devon to try out our exotic food! We got a couple of sea urchins which we—and Devon—devoured. Raw.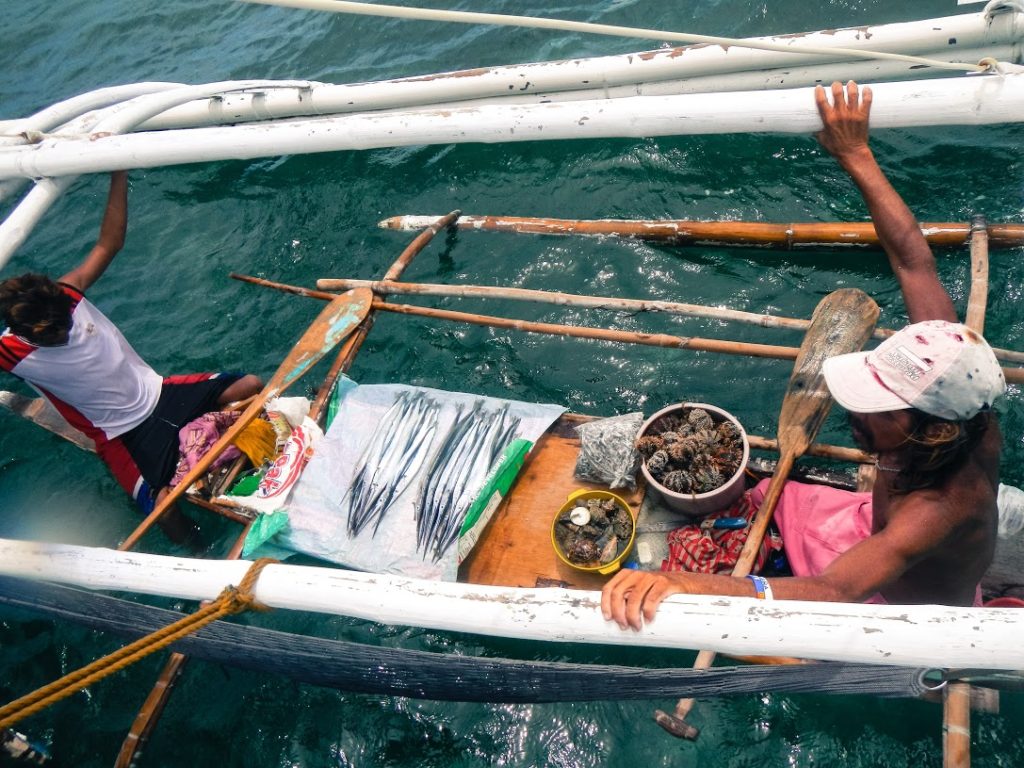 It's lunchtime! We had grilled pork, seafood, hot dogs, and sausages on the table.
In case you're wondering, those olive and pink-colored stuff on the table are called puso, or hanging rice. A small amount of rice is cooked in a small and completely biodegradable package of woven palm leaves. Making puso is a time-honored Cebuano culinary art.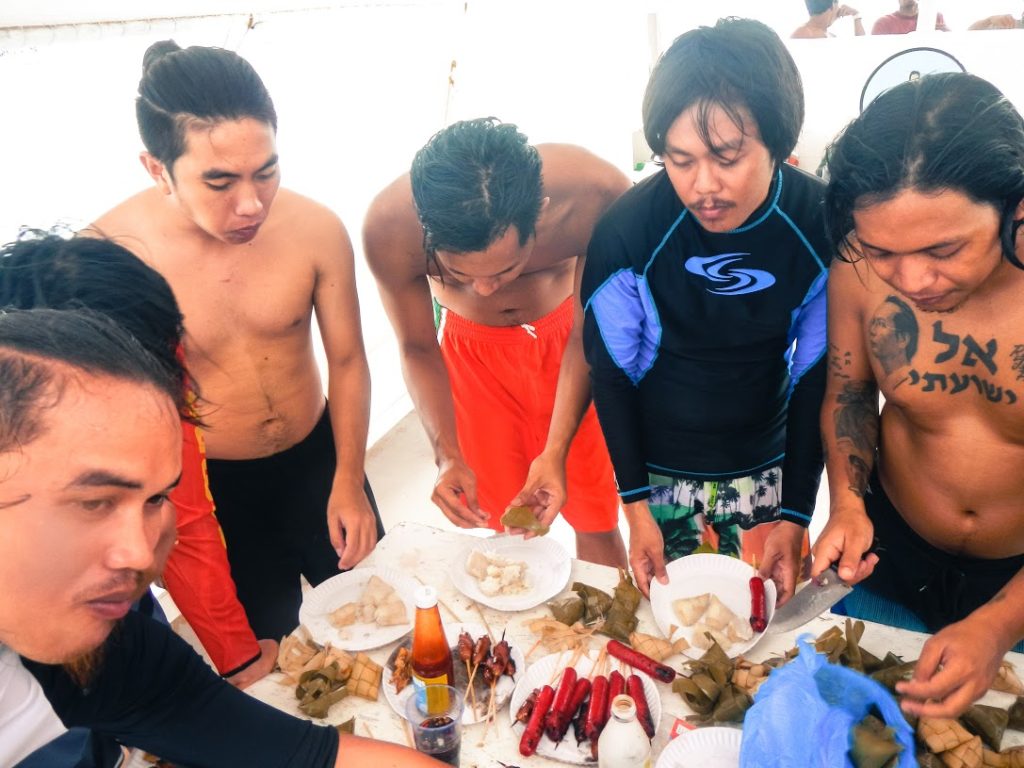 After having filled our tummies with a hearty lunch, we continued our island hopping trip, cruising to another area where the water is deeper and clearer.
Upon arriving at a snorkeling site, the guys began to show off their diving skills. Look how graceful our boys are.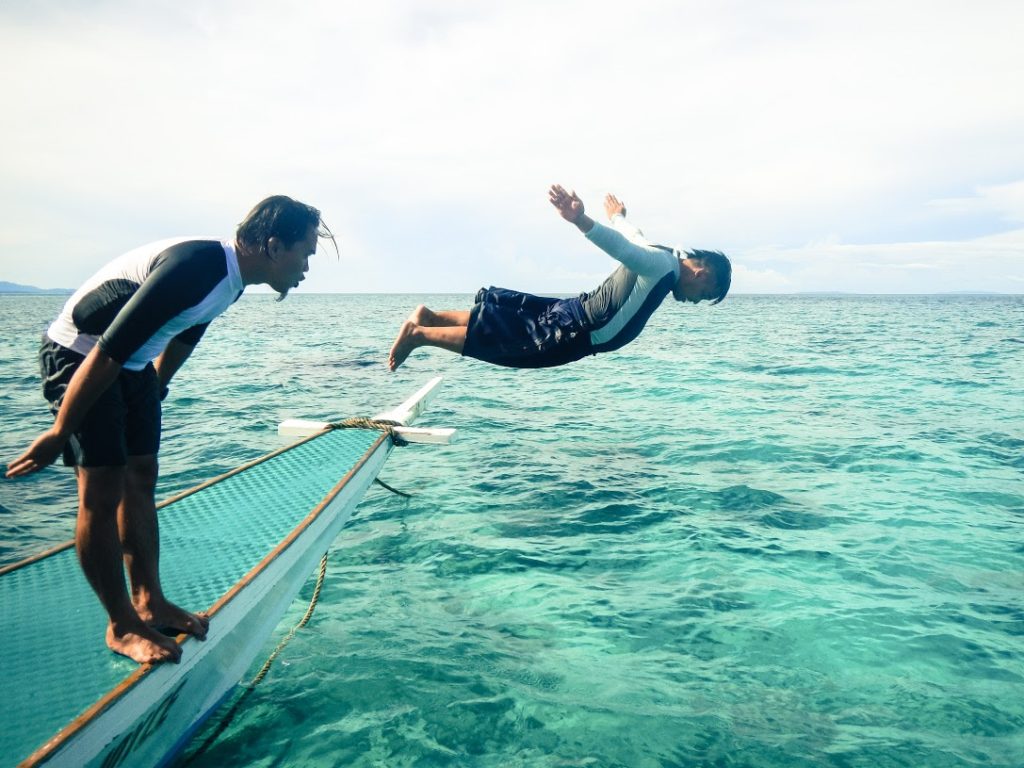 Someone suggested a back-entry dive.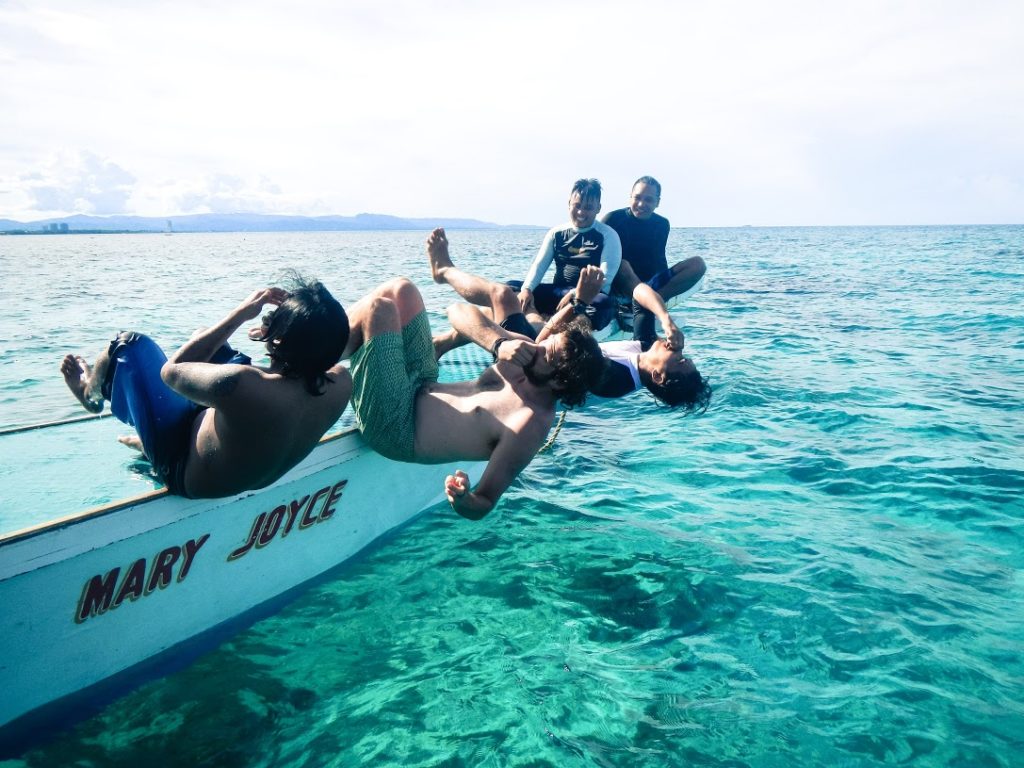 Devon honed his free-diving skills. Can you see how beautiful the sand is?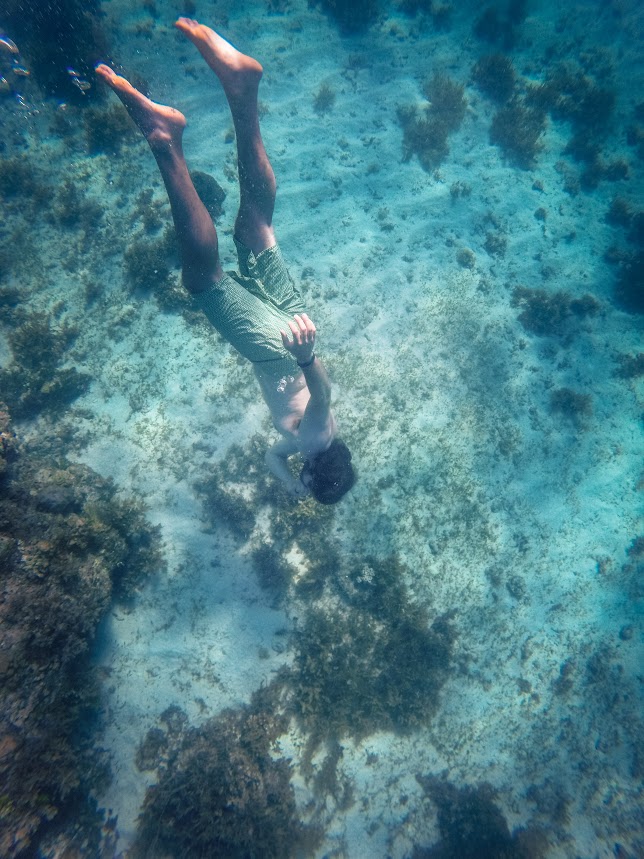 Ossie took a closer look at a coral-encrusted rock outcropping 15 feet below the water's surface. Our waters are very rich in corals, fish, and other marine life.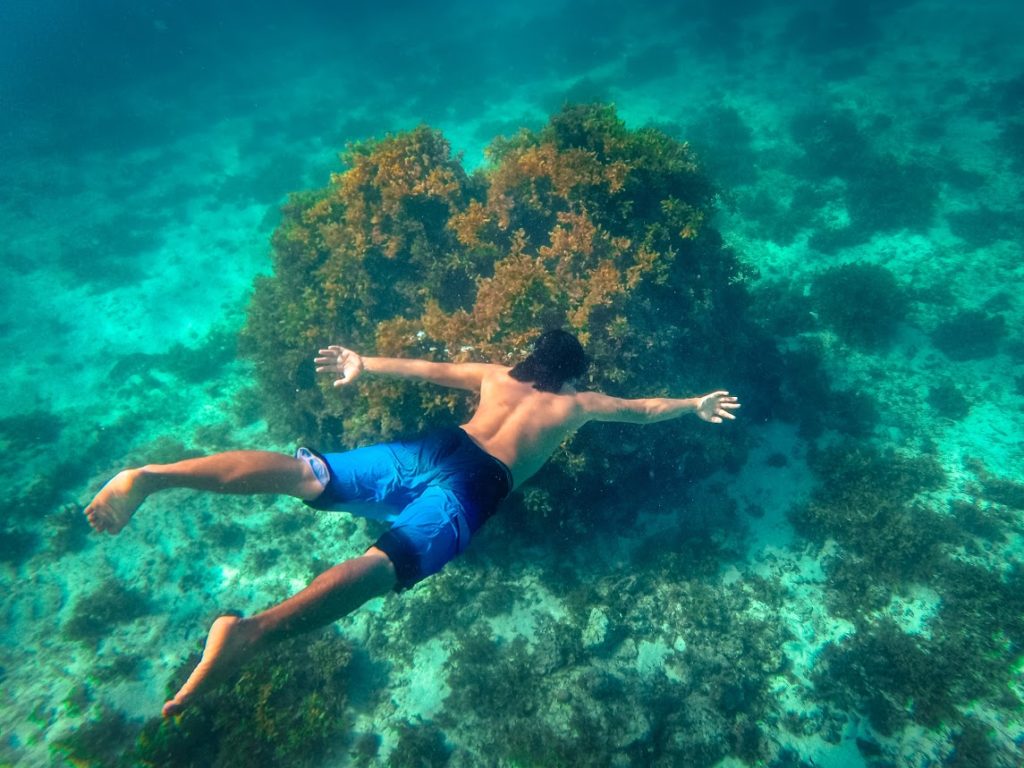 Check out those beautiful corals and the cute cleaner wrasse that marks this part of the reef as its territory. If you want to take a well-deserved holiday in a tropical paradise, then Cebu is the right place for you.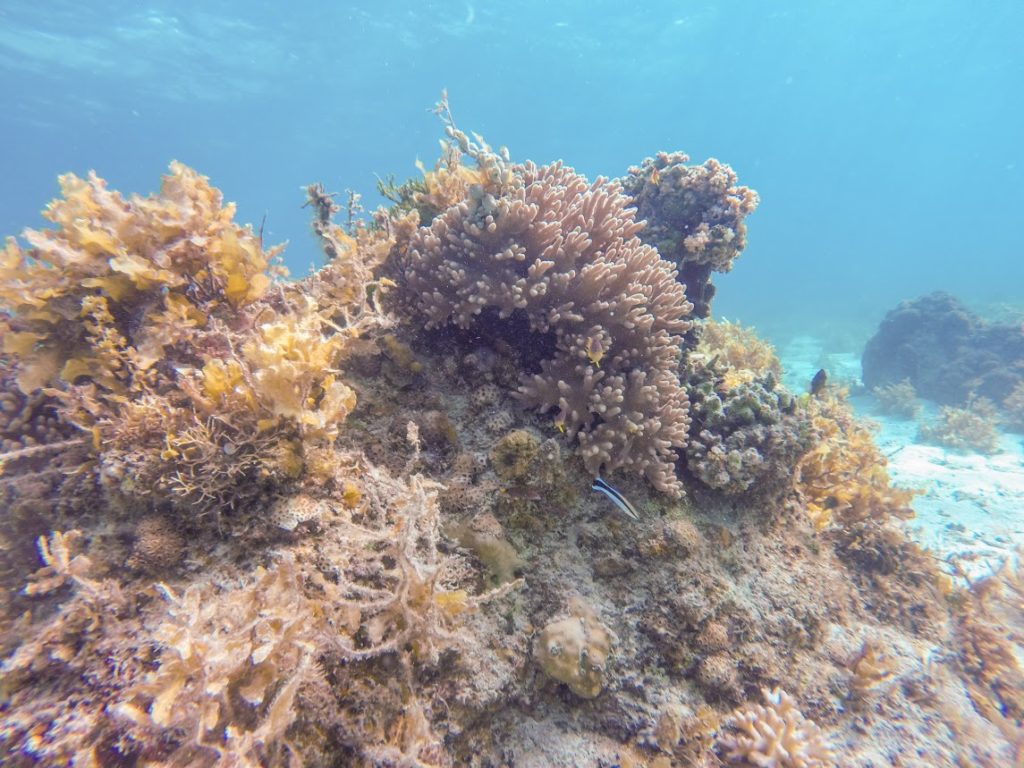 We never get tired of swimming in our crystal clear, warm waters. Devon agreed with us!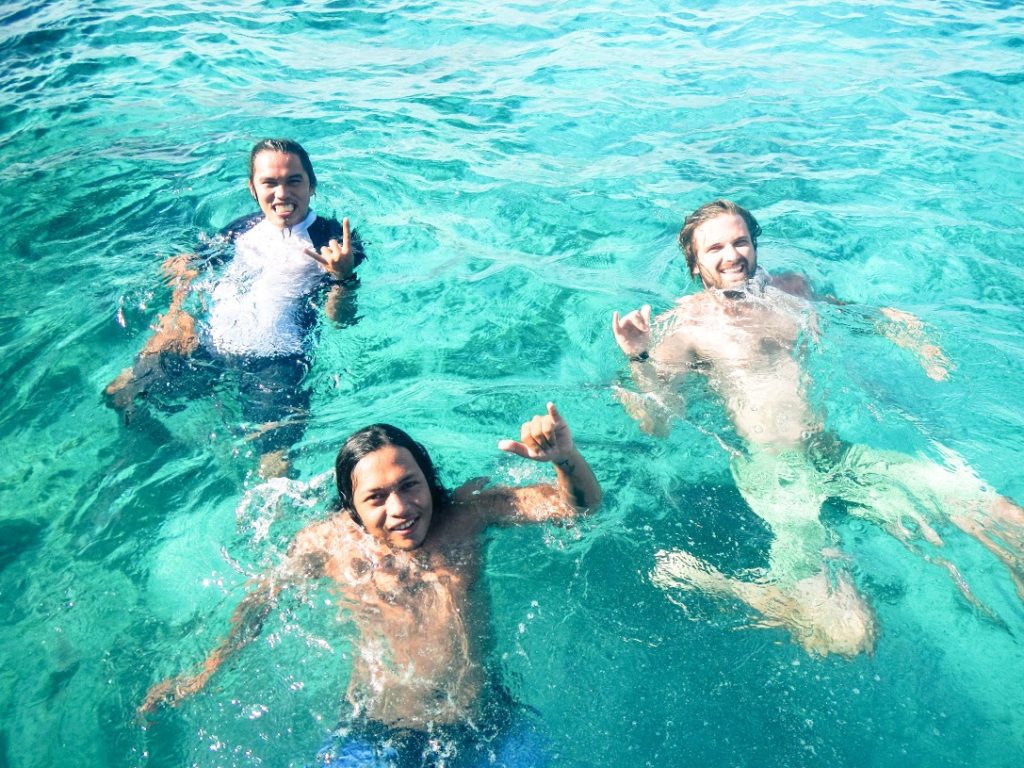 We at PhotoUp work hard to promptly deliver quality services to our clients. However, we also know how to have a great time and build relationships outside of work! Whether in or out of our office, our creative team enjoys a healthy, positive, and awesome environment.