As a digital company, our IT department is extremely critical to our operation and success as a business. To keep our computers, servers, and other digital equipment running optimally, we need a competent and skilled IT specialist. And we are lucky to have one of the best.

Eric is our busy and on-the-go IT specialist at PhotoUp. Known for his initiative and practical approaches in fixing problems in our computer and network systems, he is always hungry for everything that helps enhance his tech skills. Recently, he has decided to continue his technical training by becoming a Cisco Certified Networking Associate.
Let's learn more about Eric and how he views the acquisition of new skills and knowledge.
Tell us more about who you are.
Hello! I'm Eric Perez, a Cebuano living in the beautiful town of Liloan, Cebu. I have a good hand in fixing electronic devices and gadgets. In fact, during my college days, I did home service repair to generate extra income.
I used to go biking with friends on weekends. But now that I have a family, I mostly stay at home, watch TV, and play with my kid.
Can you explain your role at PhotoUp?
Ossie, our Director of Operations, once got extremely frustrated during one of the few times that our Internet connection bonked down. Knowing that I could fix the problem, I offered to help, and the rest of the story of me being the company's IT Specialist simply fell into place. I will never forget that instance.
In the office, I repair computers, manage networks, help the team with their computer problems, do inventories, and more.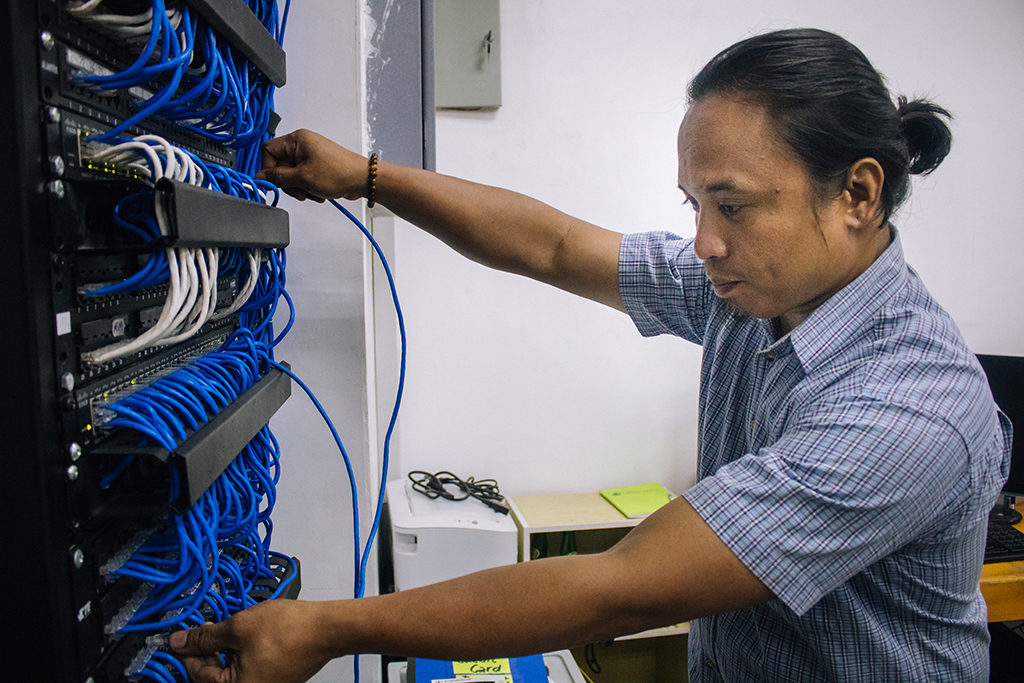 How do you describe the team you are on?
They are an amazing team in every way. They are very professional and friendly. They treat everyone equally, and there's no feeling of superiority.
You have decided to pursue a higher education. What course are you taking? Can you describe what it is all about?
I'm taking a CCNA (Cisco Certified Network Associates) course. It certifies a technician's ability to install, setup, configure, troubleshoot, and operate a medium-sized router and switched computer network. This also includes implementing and verifying connections to a wide area network (WAN).
What made you decide to pursue this course?
I have always wanted to continue and refine my career in networking. Long before I worked at PhotoUp, it has been my goal to gain more knowledge about the tech and computer industry. To achieve that goal, I decided to take up CCNA. At that time though, I wasn't able to pursue higher education due to financial problems.
PhotoUp, in a huge way, helped me overcome these problems by funding my course. For that, I'm truly grateful for the company.
Can you tell us more about a typical school day as you pursue your master's class?
Whoa! It is super fun, and there's no boring moment. Our instructor is lively and knowledgeable. The tasks are truly challenging, and working them out involves a lot of mind work. And that's the best thing; you are encouraged to think outside the box to solve problems.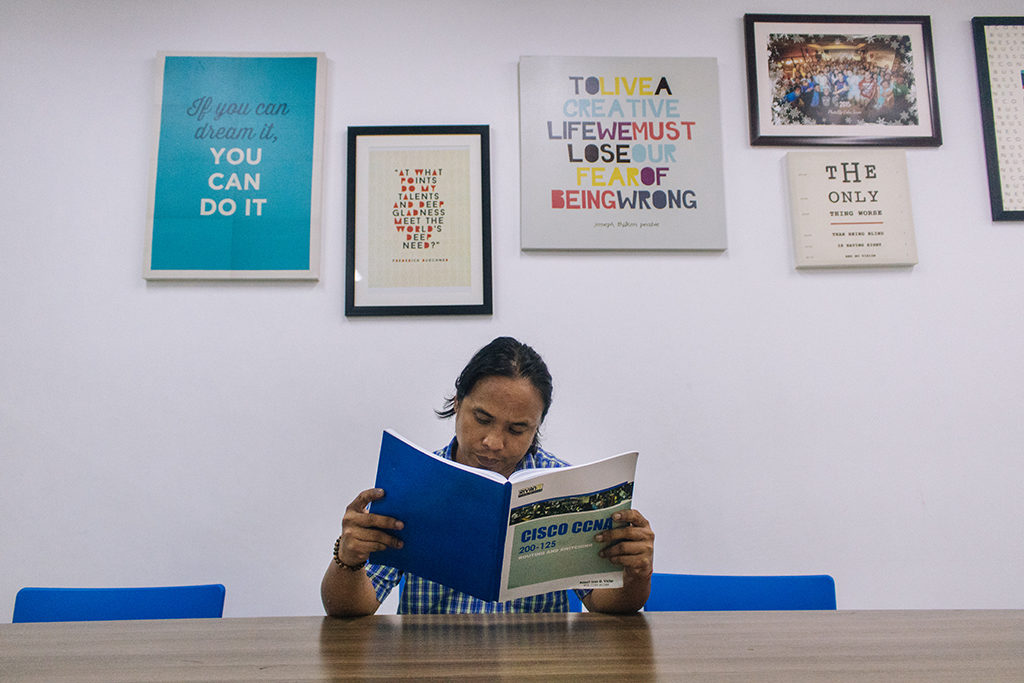 What challenges are you facing while working and pursuing higher education at the same time?
Fortunately, I've worked out my class schedule in such a way that it doesn't conflict with my work hours. My schedule also allows me to enjoy my rest days. Personally, the biggest challenge is dealing with the thought of mentally and unconsciously working out class assignments while working in the office. It's just instinct, and sometimes, it distracts me from my work.
Higher education demands a lot of effort and concentration. How do you deal with those challenges?
Indeed, taking higher education is not a walk in the park, especially for a family man like me. However, I accept the challenges because I know it is a way for me to be more effective in my job and line of work. I study any way I can and as much as I can. I allot time to learn. In the end, the fulfillment of succeeding in taking higher education is truly worth all the effort and concentration.
Has your experience working at PhotoUp helped you in your higher education?
Yes, it helps a whole lot. You see, a lot of devices at PhotoUp such as routers and switches are Cisco products. And as my course implies, we study and work on Cisco products during classes.
How about the other way around? How does your higher education help you in your profession?
Studying CCNA is truly beneficial in my profession. I have gained a lot of knowledge on what to do, what types of commands to use for certain configurations, do's and don'ts, and more. I would never have known about these if I didn't take CCNA. In fact, before I took the course, I was extremely hesitant to change settings and configurations on our company's computer and network systems. Now, I can modify them with ease and confidence. With this knowledge, I can make our systems more efficient and reliable.
What are a few of your professional and personal goals?
My personal and professional goals are interconnected. After CCNA, I'm planning to take CCNP (Cisco Certified Network Professional). I heard that there are only a few people taking up CCNP due to the difficulty and technicality of the course. However, that would be an advantage for me; I would be one of the few techs who have CCNP licenses.
Any advice to people who are interested to pursue higher education?
Don't make excuses, and don't stop learning. Taking higher education is really worth it. You'll get farther in your career, and you will gain more knowledge than your counterparts who are not taking higher education.
Any advice to people who want to venture into the tech industry?
Nowadays, the advancement and proliferation of technology trends is incredibly rapid. If you want to work in the tech industry, it is extremely important that you keep yourself informed of these trends. As long as you do your research, study, and fill yourself with knowledge, you will remain competitive.
–Enrolling in CCNA is a major and beneficial decision for Eric. With an accumulation of more technical skills and knowledge, he will truly be an asset not just at PhotoUp, but for himself as a professional IT expert. We are proud of your achievements, Eric! Keep flourishing!