PhotoUp is proud to offer our new Day-To-Dusk processing. With Day-To-Dusk processing, photographers can now shoot homes during the day and and have them edited in a way that makes them look as though they were shot in the evening. By adding in a beautiful dusk sky, brightening up the exterior of the home, and "turning on" all of the exterior lights, your Day-To-Dusk images are sure to impress your realtor and catch the eye of people looking to buy a home.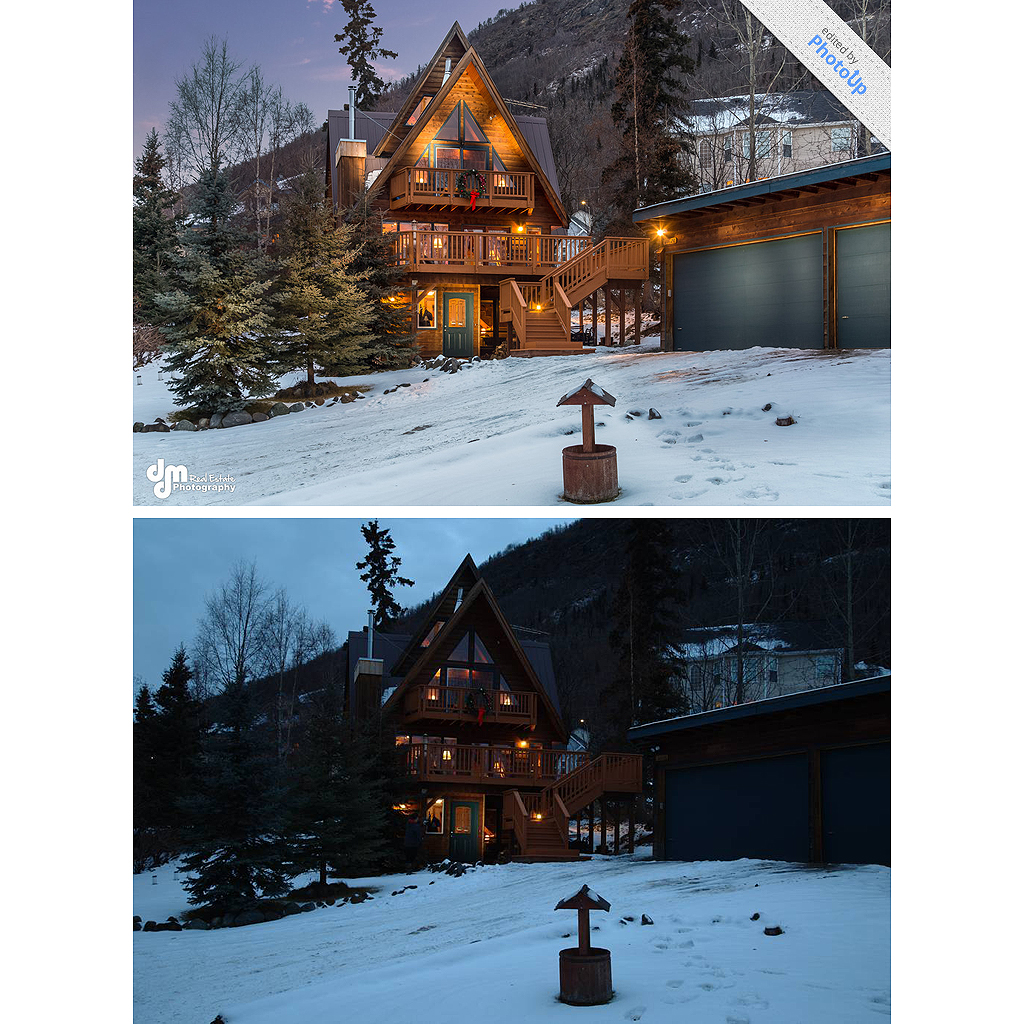 Shooting for a Day-To-Dusk image is not exactly the same as your ordinary real estate photo shoot. In order to get the most realistic Day-To-Dusk image, follow these simple rules when shooting the home:
1. Shoot on an overcast day. Day-To-Dusk shoots are best when shooting on a cloudy, rainy, or overcast day when there is no sunlight casting a large number of shadows on the home. By shooting on cloudy/rainy days, it will help let your team process a more realistic final image.
2. Turn on interior and exterior lights. By turning on the interior lights and making sure that all curtains and blinds are open, this will help your team to pull the light from inside the house. Making sure to turn on all of the homes exterior lights will also help to illuminate the home, making the Day-To-Dusk shot seem to pop right out of the screen.
3. Shoot a little darker than normal. For Day-To-Dusk images, it is always better to shoot a bit darker than to shoot your images too bright. By shooting your images a little darker than normal, this will allow our team to bring up the lighting on our end if need be. On the other hand, if your images are too bright to begin with, your editing team will have a harder time working with your images to make the shot look like it was taken just before sundown.
4. Shoot in RAW. Most real estate photographers shoot their images in one of two formats, RAW or JPEG. RAW files are larger (8-20 MB per image) record all available color and lighting data from the camera sensor, allowing us to manipulate the images in a variety of ways. JPEG files are smaller (1-3 MB per image) and only give us a limited amount of data to work with. The image loses data and quality with each round of editing. In the end, RAW files give our editing team more information to work with in order to provide you with the best possible image.
One of the best parts about our Day-To-Dusk processing is that you can now offer beautiful dusk shots to clients even if you are shooting in the morning or afternoon. You are no longer at the mercy of time and weather in order to get the perfect dusk shot.
A Day-To-Dusk image costs 5 additional credits per image ($5-$7.50 depending on your subscription plan). We find the photographers who best use the Day-To-Dusk processing, typically pass this cost along to their clients. Depending on your market, we find many photographers can charge an additional $20-$50, sometimes more for Day-To-Dusk images. Offering Day-To-Dusk images is a great way to turn a cloudy or rainy day into an opportunity to "wow" your clients and make some additional money in the process.
If you would like additional information about PhotoUp's Day-To-Dusk images, please feel free to reach out us at sales@photoup.net.