Partnering with the right virtual staging company can do wonders for your business. Here's how to find the best virtual staging service provider.
A room without furniture is like refrigerator without food. You know it's purpose, but you can't use one without the other.
The same analogy should be used when thinking of marketing a home for sale. No matter how stunning a property is, if a buyer cannot visualize what each room will look like fully furnished, chances are he or she won't want to come view the property in person.
But how do you solve this issue if you can't afford a staging company and only have a few days before the home needs to be listed online? You're in luck! There are plenty of virtual staging companies out there to help you stage a room quickly and affordably.
Virtual staging is an aspect of graphic design where realistically designed and rendered furniture, decor, and accent pieces are added into a professionally shot photo of an empty room. Virtual staging is also faster and cheaper than physical staging. What are the other benefits of virtual staging, you ask? Here are some more advantages of using a virtual staging service.
Fortunately, all you need to do is take a photo of an interior space and have it staged by a virtual staging company. Not only will this allow you to provide something extra to your real estate agents, but you'll also save a lot of time, effort, and money for both you and your clients.
But what should you be looking for in a virtual staging company? The following tips will help you find the best provider for both you and your real estate clients.

1. Quality of execution in design
How the image looks after it's staged can help drive traffic to a listing or push people away: it's that simple. It's a no-brainer that clear, crisp, and beautifully composed real estate photos can help attract home buyers. On the other hand, poor virtual staging that looks obviously fake or copy and pasted into an image, will be easily noticeable by home buyers and could even drive people away from the listing.
Therefore, when choosing a virtual staging company, they should focus on both turnaround speed and quality, equally. Virtual furniture must be exceptionally designed and sensibly placed. Accents should be selected carefully so that they would match the room's colors, atmosphere, and theme.
2. Realism
The basic purpose of virtual staging is to give viewers an impression of a fully furnished interior. Since the photo is a captured image of reality, virtual furniture also needs to look as real as possible.
Thus, your virtual stager should be able to produce highly realistic furniture and accent pieces. The realism should be such that the virtual furniture is indistinguishable from real furniture.
Realism is very important. But putting realistic virtual furniture in a photo is only half the battle. The best virtual staging partners will also include shadows, highlights, and other photo editing techniques to make sure that the virtual furniture looks as realistic as possible in the final image.
3. A good library of virtual furniture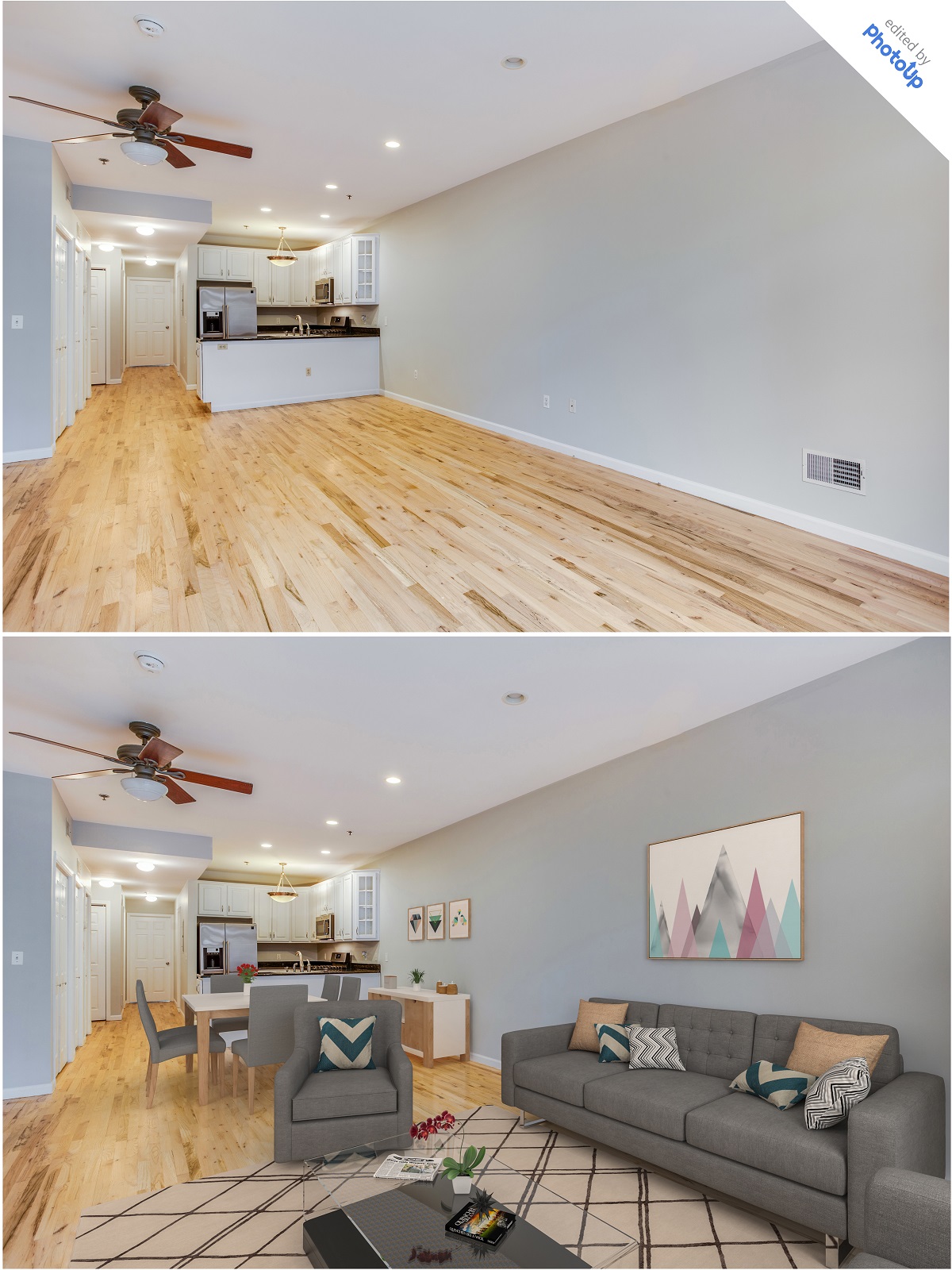 Property interiors come in all colors, sizes, themes, and designs. As such, your virtual staging company should have a large database of virtual furniture, appliances, and accent pieces. The best virtual staging galleries should include all styles of furnishings, from classic to contemporary.
Having an expansive and comprehensive virtual furniture library allows you—whether you're a real estate photographer, real estate agent, or property owner—to choose the furnishings that you feel look best in the room.
Most virtual staging companies will offer an online catalog of furniture so you are able to pick out the best set of furniture and decor to match each room of the house. For example, here is PhotoUp's online virtual furniture catalog.
Of course, there's always a chance that the specific furniture piece you're looking for is not in a provider's library. Therefore, it's a good idea to choose a virtual staging company that also offers customization services. That is, they are willing to design virtual furnishings according to your instructions and preferences.
4. Direct and frequent communication
Getting the best virtual staging photos requires you to effectively communicate with your provider. Before the designers work on your photos, you need to give them instructions, guidance, and direction as to what furniture you'd like and where you'd like it placed in the room. Your virtual stagers may also need to ask you questions about the project, and your responsiveness will help to keep the project moving along.
Your virtual staging team should have multiple lines of communication. Email is a great option for communicating with your provider, but there might be situations where you need to get in touch with them on the go. So a virtual staging company with a direct phone line or a chat feature is a great plus!
5. Fast turnaround time
The faster real estate photos are delivered, the sooner the house can be put on the market, and the quicker the home can sell. The best virtual staging providers will be aware of that urgency. As a rule of thumb, high-quality virtually staged images should be delivered within 2 business days or less. Any longer than that, and you should start looking for another virtual staging partner.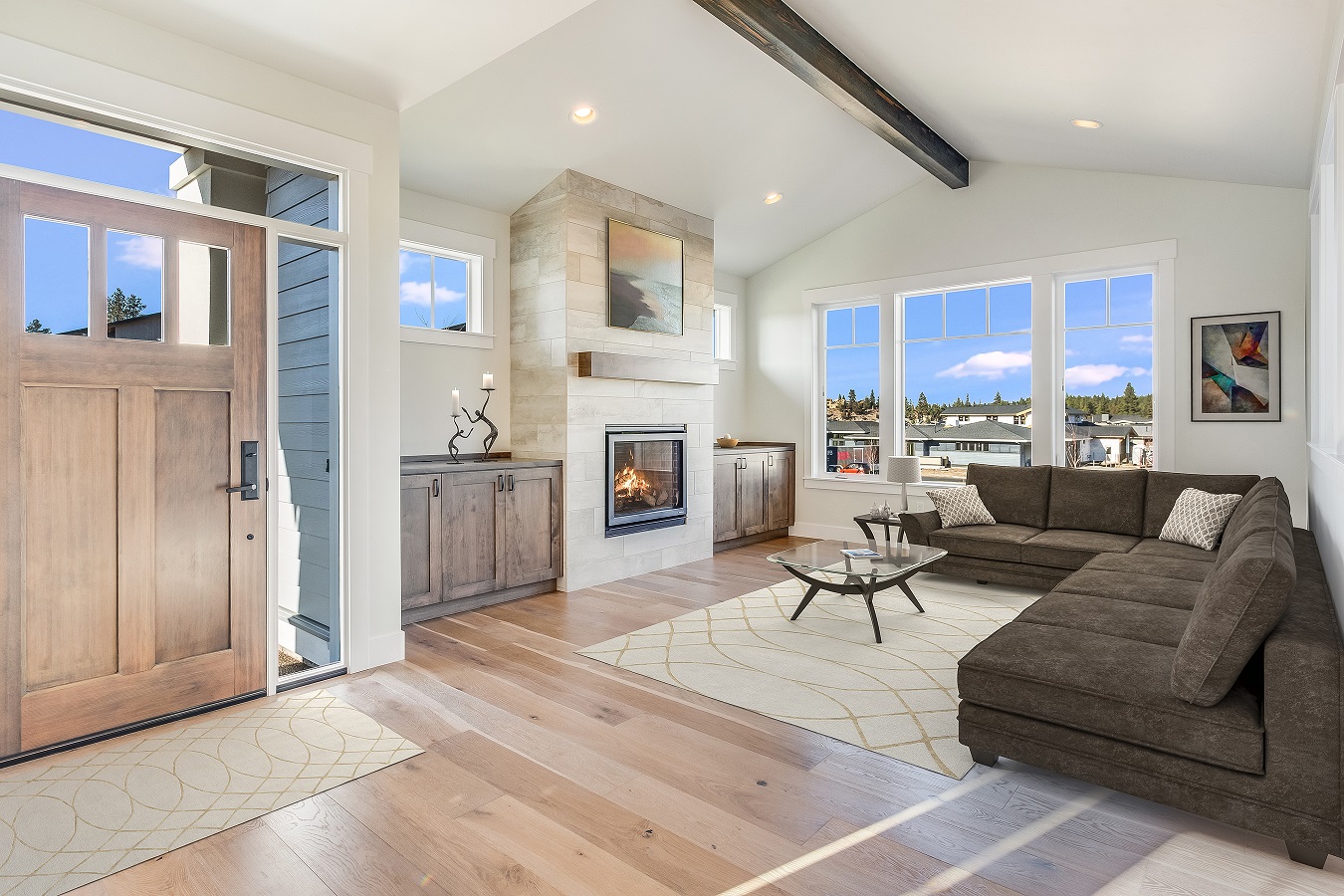 At PhotoUp, we understand that time is money. That's why we guarantee a turnaround time of 24 to 48 hours for exceptionally virtually staged photos.
We highly recommend adding virtual staging as an additional service for any real estate photography business. By having a mutually beneficial partnership with a professional virtual staging company, you can become the one stop shop for all of your real estate agents' marketing needs.